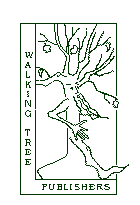 Welcome ...
Who are the Walking Tree Publishers?
Guide to our publications.
Cormarë Series.
Tales of Yore.
Publications planned.
Where can I buy these products?
How do I contact the Walking Tree Publishers?
Contribute as an author
Press cuttings.
Search this website.
Selected links.
---

The Walking Tree Publishers don't publish the book you want?

Don't despair!

Through our partnership with Amazon.de and Amazon.co.uk, you can find almost any book online here.






And if you buy through us, you help support the Walking Tree Publishers, an independant, fan-run non-profit making volunteer group bringing you the best of secondary literature on Tolkien and his world.

Help us by bookmarking this page and using it to access Amazon whenever buying anything. Thank you for your support!

Visit the amazon.de or the amazon.co.uk online bookshop.


---
this page last updated 01.03.01
counter added 01.03.00