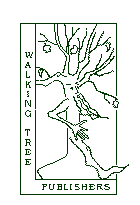 Who are the Walking Tree Publishers?
Where can I buy these products?
How do I contact the Walking Tree Publishers?
---

In the Summer of 1996, the Swiss Tolkien Society, Eredain, celebrated their 10th anniversary by holding their (in)famous Cormarë conference. They gathered in Seelisberg, in a remote youth hostel overlooking the Lake of Lucerne. There, in two unforgettable days, several members and guests presented papers on Tolkien and Tolkien related topics. So that what had been achieved would not live on in memory alone, a small group of members decided to collect the articles and publish them in book form. So the Walking Tree Publishers were born.

The initial idea behind the company was to create a basis for the publication of this collection of essays. In the first edition of News from the Shire and Beyond - Studies on Tolkien only 50 copies were produced. These were intended mainly for those who attended the conference, with a small surplus being made available to the broader market — in case anyone was interested.

It turned out that many more people were interested than we had imagined. Soon authors from across the Tolkien community were approaching us asking to publish their works, and readers from all over the globe were asking to buy our books.

The company's founding principle is not-for-profit operation. This means we pay neither dividens nor salaries, and all the work is done by us in our free time — we all have demanding full-time jobs that we do on the side! This low-overhead approach allows the company to print very small numbers for niche products, as well as larger runs of interest to a greater audience. More recently, the production method was changed from traditional printing to print-on-demand, a method that allows costs and risk to be reduced further — and through decentralised production, also simplifies distribution to markets such as North America, which are of growing importance for us.

These books, with non-fictional writing on Tolkien and related subjects are grouped into the Cormarë series. The Cormarë series books are published either as collections of essays, usually by different authors but connected by a joint theme, or more rarely, monographs by a single author.

Parallel to the Cormarë series, we publish the Tales of Yore, a collection of tales and stories inspired by Tolkien's sub-creation.

The Walking Tree Publishers is a volunteer-run association closely maintaining friendly links and co-operations with other Tolkien societies and interest groups throughout the world.

We are always seeking new articles and contributions for future publications. Authors wishing to submit their work are welcome to contact us.


---
visitors since 13.12.99
last updated 21.06.07