Bern: Wankdorf tram opens
filed on: 11.12.2012 (11th Dec 2012)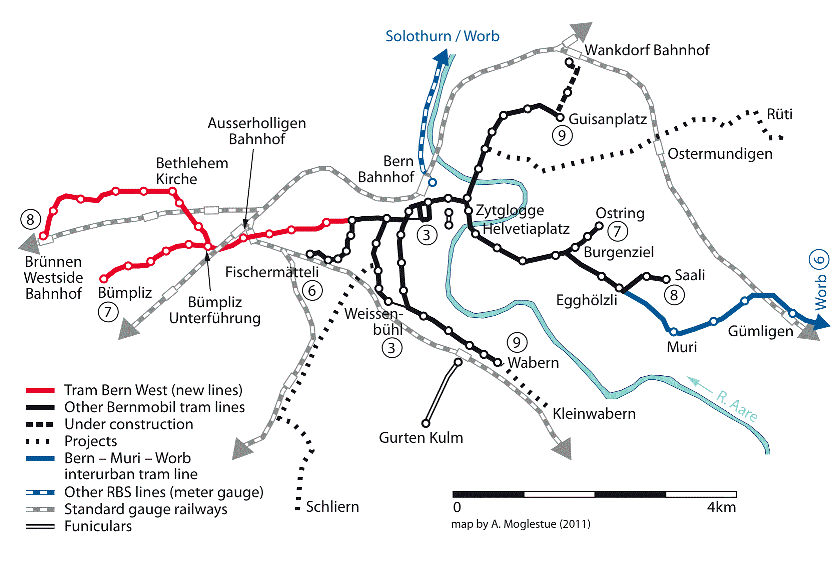 The timetable change of Sunday (8th December) saw the opening of the extension of Bern's tram route 9 from Guisanplatz to Wankdorf.
To add a note of tramway trivia, this was not the first tram line to serve Wankdorf. The previous line (using practically the same alignment) was last operated in 1991, and in fact much of the track survived until the building of the present line. It was used mainly to serve Wankdorf stadium on match days. Operation was finally discontinued due to the poor condition of the track. Until 1974 the tracks were also used by the Bern - Ittigen - Worb railway, whose Bern terminus at the time was at Kornhausplatz. This line ceased to share tram tracks in 1974 when it was diverted via Worblaufen to the underground terminus at Bern Hauptbahnhof. For more information on the closed section between Wankdorf and Ittigen, see www.eingestellte-bahnen.ch/22048/22111.html (external link in German).
Note that the map above was made for the December 2010 opening of Tram Bern West and does thus not relate directly to this news item, but the new line can be seen as under construction at the top.
This news item is from the 2012 newslog.


---
search Zürich tram news archive
news index for displayed year (2012)
news index for 2022
all news for current year
Zürich tram homepage
---
to link to this item please use:

http://www.proaktiva.ch/tram/zurich/newslog/newsitem.php?year=2012&item=111212